By Pat Sargent February 09, 2023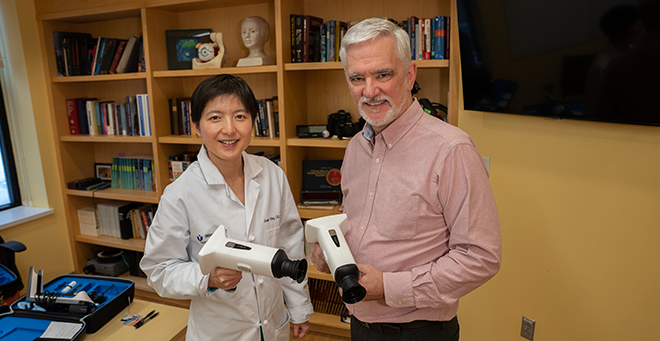 UMass Chan Medical School faculty members Juan Ding, OD, PhD, and James Ledwith, MD, are working with Israeli-based AEYE Health on a pilot study testing a handheld, AI-assisted retinal camera to improve screening for diabetic retinopathy in a primary care setting.
For the pilot study, patients with diabetes seeing their physician or nurse practitioner at the UMass Memorial Health family medicine practice in Fitchburg may also be screened for retinopathy by a medical assistant or resident using an AI-assisted retinal camera. The technology is based on an algorithm developed by AEYE Health that received FDA clearance last fall. The retinal images of each eye will be quickly uploaded to an integrated cloud-based service with a corresponding report available to the physician in under a minute. The physician can then discuss the results of the screening with the patient and decide whether they need to return in one year or will need to be referred to Dr. Ding, assistant professor of ophthalmology & visual sciences, and her colleagues at the UMass Memorial Eye Center for further reevaluation.
The current screening process requires primary care physicians to refer patients to have an eye exam with an eye doctor. Dr. Ledwith, assistant professor of family medicine & community health, and Ding anticipate that the convenience of the AI camera will allow primary care practices to screen more patients.
"Only one-third of our patients consistently get their eye exam done every year and the others are going without their annual screening," said Ledwith. "Increasing the number of patients not only requires testing in this pilot project that we're doing, but also seeing the benefit of it in a relatively small sample of one practice and getting a camera like this into each primary care practice that's providing care for people with diabetes."
"Most patients know that they are supposed to have the exam done each year. Their primary care doctors and their diabetes doctors keep telling them you should go for eye exams, but they just don't," said Ding. "Sometimes we make an appointment, but the patient doesn't show."
UMass Chan and AEYE Health received an $800,000 grant for the study from the Israeli-U.S. Binational Industrial Research and Development Foundation. The study is also receiving the Herman G. Berkman Diabetes Clinical Innovation Fund grant from the UMass Diabetes Center of Excellence to help complete the pilot project after the BIRD grant expires.
The pilot study is expected to include 500 patients and launch in April.